Need Immediate Help?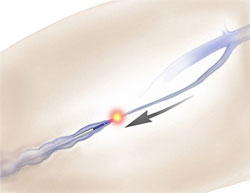 Endovenous laser therapy, also known as VenaCure, is a minimally invasive procedure used by Washington DC varicose vein doctors to treat varicose veins and chronic venous insufficiency. This procedure is performed using ultrasound to guide a small laser fiber directly into the unhealthy vein. The energy from the laser fiber is specially tuned to created heat that is applied to the vein wall to seal the vein closed. At the end of the procedure, the laser fiber is pulled out of the newly treated vein. Once the diseased vein is closed off, the flow of blood is re-routed to other healthy veins in the legs and feet and thereby improving the overall circulation in the body.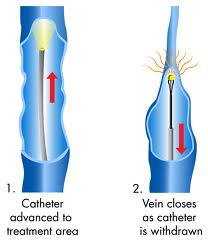 As an alternative to traditional vein surgery and vein stripping, VenaCure does not require the use of general anesthesia, hospital stay or a lengthy recovery time. In this way, the procedure is a safe and effective treatment modality for a wide variety of patients including those who might not be able to undergo more invasive surgery such as older patients and those with some pre-existing health concerns.
Like many of our other minimally invasive treatments, endovenous laser therapy is also performed using a powerful local anesthetic in the comfort of our vein clinic in the Washington DC metro area, usually in less than 45 minutes. The patient is able to walk around again immediately after the treatment and is typically ready to resume normal activities on leaving our facilities. Additionally, our patients are often pleased to find that some of their symptoms are immediately diminished or gone. Patients also can look forward to a clearer, more youthful appearance without unsightly varicose veins.
Call (301) 637-3088 for more information.
Contact us via email:

ABOUT US
When you come to the office of Venous Health Centers, one of the top vein centers in Washington DC and Montgomery County, you can be confident that Dr. Rana, a board certified vein specialist, and staff has broad training and experience making the diagnosis and help you to choose best treatment for your personal needs.
Dr. Rana is a well-established Board Certified vein specialist, who has dedicated his medical practice entirely to vein diseases diagnosis and treatment. Dr. Rana is the only area physician uniquely board certified by both the American Board of Venous and Lymphatic Medicine and the American Board of Vascular Medicine. Dr. Rana's experience and training provides the basis for a comprehensive approach to venous diseases. Dr. Rana offers state-of-the-art minimally invasive (alternatives to traditional vein stripping), in office vein procedures and vein treatments for varicose and spider veins.
Dr. Rana has extensive experience in the vein disease treatments. He has successfully performed over two thousand varicose vein procedures. Dr. Rana is a member of the American College of Phlebology and the American Venous Forum, as well as a number of other professional societies. Dr. Rana serves as a member of Fellowship Program Development Task Force Committee of the American College of Phlebology. He has also been recognized as one of the area's Top Doctor by consumers research council.

TESTIMONIALS
I've lost 50 pounds over the past year, and my gift to myself was to have the varicose veins in my legs treated and/or removed. Well, today I proudly wore shorts to town! I was able to lose the weight myself, but I could not make my legs attractive on my own. I now feel confident and happy. Thank you, Dr. Rana!
ACTUAL PATIENT
Dr. Rana is an extremely pleasant and proficient doctor. His staff is also excellent. Highly recommended.
LYNDA D.
The results of my sclerotherapy were amazingly superior to previous results I had with sclerotherapy done elsewhere.
ACTUAL PATIENT
He took his time to explain the procedure quite clearly, what to expect and what not to expect. Ten days after the first surgery, one of the biggest veins on my left leg was gone. Only for this I would recommend the process and doctor to anyone. Some of the results were instant (within one week)! If I was to do the process again, I would for sure go to the same doctor. Had a good experience there. I would recommend him, for the first time in 30 years I feel confident in my legs!
ACTUAL PATIENT
A great doctor and a great person! I've had great success and really appreciate the professionalism of Dr. Rana. It's best to have the best.
HERB B.