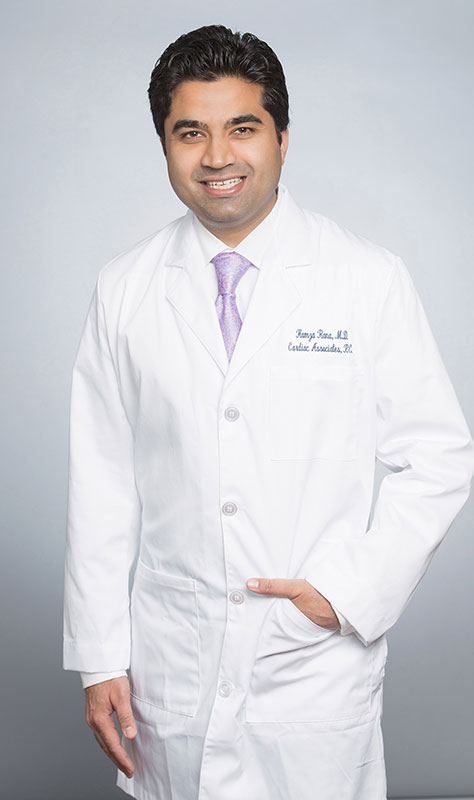 Board Certified Vein Specialist Dr. Rana
Washington DC Vein Specialist Profile
When you come to the office of Venous Health Centers, one of the top vein centers in Washington DC and Montgomery County, you can be confident that Dr. Rana, a board certified vein specialist, and staff has broad training and experience making the diagnosis and help you to choose best treatment for your personal needs.
Dr. Rana is a well-established Board Certified vein specialist, who has dedicated his medical practice entirely to vein diseases diagnosis and treatment. Dr. Rana is the only area physician uniquely board certified by both the American Board of Venous and Lymphatic Medicine and the American Board of Vascular Medicine. Dr. Rana's experience and training provides the basis for a comprehensive approach to venous diseases. Dr. Rana offers state-of-the-art minimally invasive (alternatives to traditional vein stripping), in office vein procedures and vein treatments for varicose and spider veins.
Dr. Rana has extensive experience in the vein disease treatments. He has successfully performed over two thousand varicose vein procedures. Dr. Rana is a member of the American College of Phlebology and the American Venous Forum, as well as a number of other professional societies. Dr. Rana serves as a member of Fellowship Program Development Task Force Committee of the American College of Phlebology. He has also been recognized as one of the area's Top Doctor by consumers research council.
---
John L. Carter
RDCS, RVT, RPhS
John has 27 years of experience in Ultrasound Imaging. He is a graduate from Johns Hopkins – School of Medical Imaging. He furthered his education by attending Medical Ultrasound Programs at Thomas Jefferson University, Wake Forest University, University of Washington and Duke University School of Medicine.
Registries Include:
RDCS – Adult Echocardiography
RVT – Vascular Technologist
RPhS – Registered Phlebology Sonographer
John performs an extensive venous reflux exam to further identify venous insufficiency while mapping all of the vasculature in the lower extremity. Currently, he is also assisting in Ultrasound guided vein therapies.
---
Brenda Boulter
Registered Vascular Technologist
Graduated the Vascular Ultrasound and Echocardiography program from Montgomery College
Member of the Society of Vascular Ultrasound and the Society of Diagnostic Medical Sonographers
Working for Cardiac Associates, P.C. since 2010
---
Megan Murphy Dolan
BA, RDMS, RVT
Attended Villanova University
Graduated the Ultrasound Program from Montgomery College at Takoma Park
Certified Vascular Technician since 2002
Has worked for Cardiac Associates and MedStar Montgomery Medical Center for 6 years
---
Giovanna Oliveira
RN, BSN
Giovanna earned a Bachelor of Science in Nursing from Washington Adventist University. Her nursing experience include working at cardiac Intensive care unit, and pediatric cardiology. She joined the staff of Cardiac Associates,P.C. as clinical nurse in 2012. Giovanna has volunteered for local firefighters department in the past, and currently volunteers at the woman's clinic in Rockville. Fluent in English, Spanish and Portuguese. Giovanna enjoys reading, scuba diving, and playing football.
---