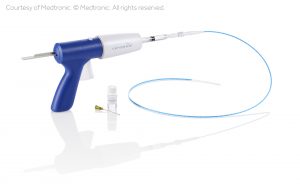 The VenaSeal™ closure system is the only non-tumescent, non-thermal, non-sclerosant procedure that uses a proprietary medical adhesive agent or medical glue to close the vein.
You will have an ultrasound imaging exam of the leg that is to be treated. This exam is important for assessing the diseased superficial vein and planning the procedure.
The VenaSeal™ closure system is an option to consider, though currently insurance reimbursement for VenaSeal™ closure is unavailable. Please keep in mind that other vein treatments offered at Venous Health Centers are covered by insurance since vein disease is a medical condition. If you are looking for a great alternative option, please read more about Endovenous Radiofrequency ablation or Endovenous laser ablation on our treatment page.